Go With Your Gut
Most of you that have known me for awhile remember that I worked closely with Mary Goulet while she was the host of the Entrepreneur Radio Home Biz Show, and also The Mary Goulet Show. She is now hosting
MomsTown Talk Radio
with Heather Reider at World Talk Radio.
A couple of years ago I flew to San Diego and spent the weekend brainstorming with Mary on the direction of her show, and mapping out a strategic online marketing plan. That was the first of two trips to the west coast, and an intense year of working very closely together.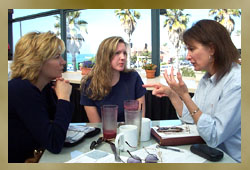 Mary left, Lynn center, Antoinette Kuritz right
Last week I got a small package in the mail from Mary unexpectedly. I opened it and pulled out a very colorful little book with a 'hip' cover, titled "
Go With Your Gut!
". I was
thrilled
to see it in print, as I had reviewed the manuscript for the book quite some time ago. It's always exciting to see something go from idea to creation... and a beautiful creation it was!
If you could ever truly "hold an idea in your hand", this was it. I felt the same way when I first got my hands on The Secrets of Wealth by Fabio Marciano. Someone I knew personally that put a lot of energy, and worked very hard, into sharing a message... turning one tiny idea into something that would touch thousands of lives. I really admire Mary and Fabio, and all authors, who pour themselves out onto paper and manage to capture their passion for a topic in print.
In
Go With Your Gut!
, Mary talks about the difference between your Head, Heart & Gut when it comes to decision making. Big decisions, small decisions -
every
decision. Do you follow your passion, go with logic, or listen to gut instinct? Mary shares what each of those three mean, and how to know the
right
answer in every decision you are faced with.
She takes what experts tell us - that making decisions are a critical part of our growth and success - and goes a step further... to tell us how we can make good decisions with complete confidence, and truly begin to live up to our full potential.
Just making a decision isnt good enough. We really do have to make the
right
decisions.
This was a great read, and an unexpected surprise. Mary - if you're reading this - congrats to you! You did an exceptional job putting this together and I enjoyed every page of it!!