Christmas Memories
This last week or so has been crazy. Some good, some bad, but mostly just busy - everyday ups and downs (and then some). For starters, we had a drenching rain last week and I woke up to three leaks in the living room. I missed a Teleconference on Thursday night that I really wanted to listen in to because I totally forgot that I had promised to take my daughter shopping. My forum mailer quit working. I woke up late one morning and had to rush everyone. I could go on and on... It was hectic.
At the same time, I got a great new CD that I've really been enjoying... on Wednesday evening I went to church with my daughter and stayed with her in her class (fun!), and I went out shopping one night and found the most perfect Christmas card for my very best friend.
It's just life... and every day seems to present its good and its bad. But this time of year it can get especially hectic with so much to do, so many places to be, so many things to remember...
And then I called my mother on Friday afternoon. She shared the most touching Christmas story with me - a true story, that is... one about me when I was maybe my daughter's age or a little younger.
It completely changed my perspective, and for the rest of the weekend I just slowed myself down (
way
down) and did some thinking. I know that in a big way I have been 'busying myself' lately to keep from feeling sad about what is missing in my life this holiday season. But over the weekend I had a chance to just unwind, and change my thinking.
I wish I could find all of my pictures right at the moment, but I will share with you some from Christmas before last - 2003. That was the first year I was back home, and staying with my Grandmother full time. I cooked a big dinner in her homey kitchen... and served it in her formal dining room.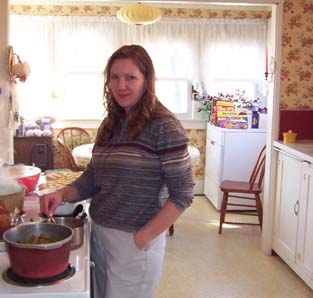 That isnt the most flattering picture of me... but when I look at it, all I see is Grandma's kitchen. It's the kitchen where I spent time with her on weekends and during summer visits. Where she made my birthday cakes when I was a girl. I used to sit on a stool beside that stove and "help her cook" (laugh). I've sat
on
that table,
under
that table, and
at
that table...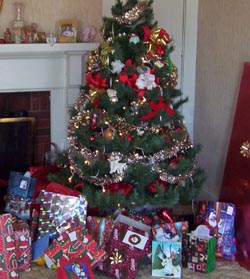 There's our Christmas tree... all decorated and standing proud there by the fireplace. Ann Marie was 7 that year and did most of the tree decorating (LOL). She used ribbons and bows that Grandmother had saved from the year before, some of our decorations and some of this and some of that. I thought it turned out mighty nice :)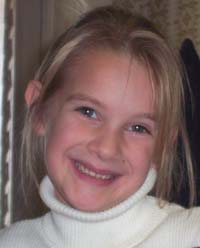 There she is! That would be Ann Marie - but she'll scowl if you call her that nowadays... she has "changed her name" to Annie ;) She has really grown since then - 9 years old, and she doesnt have those cute little baby teeth in the front anymore. (Aint she a cutie??)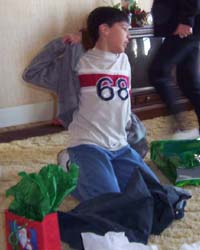 This would be my son, Zack. I got a real laugh when I found these pictures of him. He looks so young and cute there! Let's see... he would have been 12 in this picture. He's camera shy (unlike "Annie") so you wont find many shots of him - but he's a handsome fella. Of course he doesnt look like this anymore. Nope - now he is 14 and super cool ;)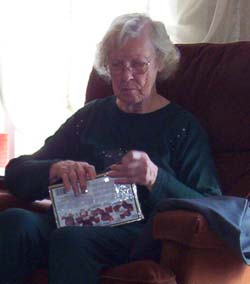 Here's Grandma :) The picture didnt come out very well, but this one makes me smile. She had opened several gifts right before this was taken - an outfit, a few other things - and she seemed real pleased with it all. But when she opened this box of Whitmans... she set everything else down on the floor beside her and got into that box of chocolates. **smile** that was a nice Christmas...
I do miss her. Very much. I am so glad that my children had a chance to know her. But my mother was right - Christmas is a time for happy memories and good times. My plans for this week have changed from "getting everything done that I possibly can in 4 days or less..." to "take a deep breath and enjoy every day leading up to Christmas".
I'll be doing some baking this week, a little more decorating, some gift wrapping of course... and just basically slowing down to enjoy this holiday. I hope you are doing the same :)
Happy Holidays!