Thank you, Google!
I got up this morning and was doing my usual rounds online... checking this, checking that - basically just looking at stats, rankings and such. I typed the URL for my dart site into Google yet again, with absolutely no expectation whatsoever.
I've never had a problem getting a new site or a new web page indexed and ranking in Google, but this one just seemed to get ignored from the get go. I chalked it up to my mistake for linking to it from other established sites I had on the same host. Lesson learned, oh well. Besides Yahoo and MSN were sending good buying traffic every day - and I was using Adwords to drive traffic to the site from Google.
Much to my surprise, though, it was listed in the Google results this morning! Yay!! And you would have thought my favorite team just won a big game the way I stood up and yelled "YES!" haha :p
And then, almost
too
coincidentally, Fed Ex knocked on my front door and handed me a small gift box from Google. I opened it up, and inside was a beautiful burgundy zippered case, sporting the Google logo on the front cover: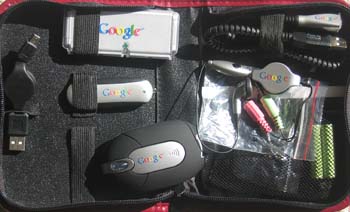 Inside there are lots of neat little geek toys:
a mini wireless optical mouse
a 128 meg usb thing-a-ma-jig
a connector to connect the usb thing-a-ma-jig to a usb port
an itty bitty 4-port usb hub
a cute little usb notebook light
two aa batteries
some kind of a magic trick bag (wait, that might be a soft carrying case for one of the other items)
a string and a keychain for true geeks that want to wear some of these things
some kind of an earphone thingy
Alice Seba
received a gift from Google
as well, I see. How very nice of them! All of this stuff is really cool, I must admit, and I'll have tons of fun playing with these little geek gadgets... but I am even more tickled to see them acknowledge my dart site :)
*cheers*
to Google!