Trip to the Falls
We got up this morning and decided to head to
Fall Creek Falls
to beat the heat. It's about a 40 minute drive from the house - and a beautiful drive at that! Once we got in the State Park, our first stop was the main falls. It's absolutely breathtaking from the top: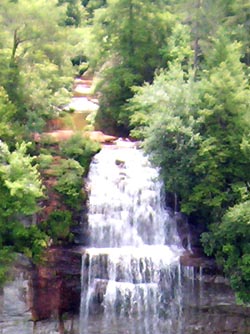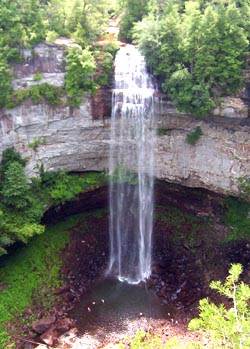 To give you an idea of how far down that really is, those little dots in the pool at the bottom... are
people
. The water is ice cold in the falls and pools throughout the park, so it's a
great
place to spend a hot July afternoon.
And a hot one it was! In fact, we skipped the hiking altogether because of the heat. Here's just one of the weather statements that was out over the weekend:
Weather officials have issued an excessive heat warning for most of Middle Tennessee from noon Sunday to Monday night with temperatures forecast to reach 97 degrees each day. It will feel like 103 degrees to 108 degrees, and night time won't provide any respite with the heat index falling only to around 80 degrees.
Albert and I met up with some friends down at the swimming hole. Not the same pool that you see in the picture above, but another little spot with a small waterfall and swinging bridge... and rocks you can jump from. We managed to get sunburned and freeze to death all at the same time, LOL! It was a great time, and definitely a good way to beat the heat ;)