Great Alternative to ArticleAnnouncer
I was talking to
Heather
yesterday and we were discussing the price of Article Announcer - which is the new software program & training series by Jason Potash (you can see my review here:
Article Announcer Review
). It's a higher ticket item, yes - but it's definitely worth the price. Without a doubt!
Still, there are many that simply cant afford to shell out $400 right now. Understandable. So Heather asked my opinion of a book by Jim Edwards titled
Turn Words Into Traffic
. I was familiar with it... but hadnt yet read it. So I sent Jim an email and asked him a few questions...
Mainly I wanted to get his opinion on whether or not his book would make a good alternative for those who would like to learn more about using Articles as a fast-track marketing tool... but werent in a position to order Jason's package.
Not only did we exchange a few words about it... but I also sat down last night and began reading his book. Jim actually considers this some of the best work he's ever written... but I was anxious to see for myself, and wanted to get an idea of how valuable it might be to my own members & subscribers.
I have to tell you - I was really impressed with the book from the minute I opened it. Very professional format & layout... and
incredibly
well-written. If you've read The Super Affiliate Handbook or The One Minute Ebook - this one is laid out similar with hyperlinked bookmarks so that you can jump to any section with a click.
Obviously you are not going to get any software with this package, like you do with ArticleAnnouncer... but this really is a GREAT guide start to finish if you want to learn how to write & market Articles for a HUGE surge in traffic & sales.
In fact - and this is a first - I would compare
Turn Words Into Traffic
to
The One Minute Ebook
(which is my absolute
favorite
info-product!). Much like OME it is very detailed, has a very organized layout and is over 150 pages of pure how-to info & step-by-step instructions.
Jim goes into great detail about the writing process, the marketing strategy, and the WHY of everything! In fact, there are exercises throughout the entire book that are extremely thought-provoking and will have ANYone writing articles like a pro (
forget
"writer's block"!!).
Definitely a good alternative for anyone who would love to benefit from the results of article-writing, which done right... could really make a huge difference in your online marketing strategy!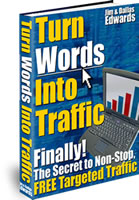 Not only does it make a great (affordable) alternative... it would even make a great
addition
to ArticleAnnouncer! For under 40 bucks, you are going to get
a lot
out of this guide!