A Spontaneous Day Trip
We took off yesterday and went to
Lake Winnie
in Chattanooga - totally unplanned. We got home from the dart tournament on Wednesday night and Albert and I were sitting in the back yard with the little tiki light going... and he turns to me and says, "Let's go to Lake Winnie in the morning."
Hmm. For a brief second everything that I really needed to do the next morning flashed through my mind. Well - more like a minute and a half. I finally turned to Albert and said, "Okay. What time do you want to head out?" (Who wants to be the party pooper, right? :p)
So we dropped everything and went to Lake Winnie. I've said this before, and I'll tell you every time - I
LOVE
the drive to Chattanooga. It's maybe 100 miles (give or take, depending on which way you go) and all of it is absolutely gorgeous - especially through
Monteagle
.
I took this photo just after we passed over the mountain: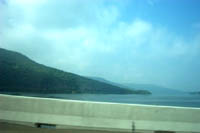 I'm no photographer, but I did snap a few shots because I really love the mountains and the lakes and the clouds. There are lots of huge rocks and small falls along the way, and just a lot of interesting scenery. Including
barns that are painted with "See Rock City"
on the side of them - have you ever seen one of those... or a birdhouse replica? Well, this drive to Chattanooga is the place to see the real deal ;)
Anyway, we finally get to Lake Winnie (which is a "nickname", its really called the Lake Winnepesaukah Amusement Park). I believe it was first opened in the 1920's, and looking at the old newspaper clippings and photos in the gift shop... it was quite an attraction!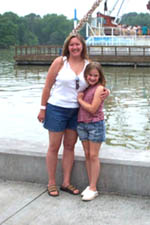 Lake Winnie is famous for their
Cannonball
(a wooden roller coaster built in 1967)... and I found out why - it was an absolute blast! In fact, I think we went on that one 7 or 8 times LOL. There were plenty more that were fun, and a few that just made me downright sick. Like the
Genie
- this one pinned you to the back of the "cage" because it spun so hard... and at one point we were lifted into the air and tilted until we were parallel with the ground below us! No harness, no nothing - just a gravity trick (and holding on for dear life! haha).
One that I hated - and refused to get back on - was
Wild Lightnin'
. I have never been on anything that scared me as bad as that one did. In fact, I think I screamed the entire time! By the time it came to a screeching halt (there was
nothing
calm about this one - it even practically threw us out of it when it stopped!) I was hoarse, dizzy and shaking from the adrenaline rush. Of course, it didnt help that the ride had
just
opened after being "closed for maintenance" most of the morning. So the whole time you are holding on for dear life and hoping it doesnt "break" again while you're on it!
About halfway through the day I was starting to feel my sunburn and was getting a bit tired. I'd been spun, shaken, dropped, whirled, whipped around, swung down and splashed just about enough. It just didnt the feel the same as it did when I was a kid. When we sat down for a drink and a break, Albert said "this is a great amusement park"... and I thought "yes, I feel very
amused
" (heh).
I'm not complaining - we had a terrific time at Lake Winnie... I just dont know where 8 year olds get that amount of energy and stamina!! All said and done, it
was
a great time - but I left there feeling like it was pure "mommy torture" LOL - and was ready for a "mommy treat"! So we hit the all-you-can-eat crab legs & sushi bar on the way home :) Mmmm!
Of course, my stomach still felt like a
tilt-a-whirl
, but it was great nonetheless. I slept all the way home (total wimp-out!)... and I was never so happy to pull in the driveway. One thing about vacations and day trips - they really make you appreciate HOME.
I woke early this morning and was on my riding mower before 8am. Watering my plants, taking out the trash and starting the laundry... and sitting down to work in my home office. And I thought
"yesterday was great... but there's really nothing like being at home with the family for the everyday stuff"
.