Dream Home Revisited - Motivation Renewed!
Remember my
dream home
? I had opportunity to visit it again today...
It all started when I went to work with Albert one morning. He needed help measuring a swimming pool for a new liner, so that he could give the real estate company a quote on the repairs. This was actually during his off season, so he didnt have any help lined up and I would just ride out with him on the odd job to help him out. Not to mention it was a great opportunity to get out of the house :)
I fell in love with the place the minute we arrived... and after I helped Albert with the measurements, did a complete walk-around and walk-through. In the end, the timing wasn't right for me to buy this home and other decisions were made.
It (the house, and my falling in love with it) was actually a great point of inspiration for me and was the launching pad for some new financial goals & plans. That very month I paid off several debts, and set goals to become completely debt-free and also build on my savings throughout the rest of the year.
The
dream home
wasn't meant to be (at that time)... but the seed was planted, and was the motivating factor that set certain things into motion - that
were
'meant to be'... at that time.
Since then (which was
almost 6 months ago
), many things have happened - including my recent move across town. When my time with Grandmother was over I decided to rent for awhile and take some time to adjust to the change in lifestyle before making any major decisions about permanent locations or long-term debts.
My expenses are low and the house is great. The kids are still young (8 & 13) and very much enjoy being in town and near the Civic Center (lots of sports, big playground, ball fields & swimming pool). It's nice, very comfortable, and the neighborhood is quiet.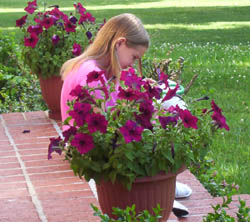 my daughter, 8yo
I must admit, it took me awhile to adjust to all of the changes - missing Grandmother, the house being so quiet during the day, the move... I felt a bit out of place for the first several weeks until I finally started feeling "at home" in the new place.
During that time I felt a little stir crazy at times, so I would make rounds with Albert a couple of mornings a week. Usually just for a few hours, but it really made a difference. I went with him to hang a liner one morning and really enjoyed the work... so I offered to tag along anytime he had one to hang.
It's a great deal for him, because I only ask for about half the pay that the boys usually get on that job. For me, it's more about the chance to get some sunshine and exercise - - and to get
out of the house
.
After 8 years of working computers... I cant even describe how
great
it feels to put in a few hours of REAL labor! It can be a nasty job mind you (usually a big smelly hole in the back yard full of frogs and muck), but by the time we walk out of there it is a gorgeous swimming pool.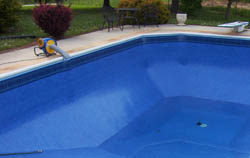 in progress
It's an impressive job start to finish, and I've gained a lot of respect for the "pool man". Most of Albert's friends will say "you've got it made!" when he tells them what he does... but then, beautiful shimmering clean swimming pools with gorgeous babes tanning beside them dont usually need servicing ;)
Anyway, he had a liner job to do this morning so I went along. Ironically it was the "dream house" that we measured last winter! A young couple had bought the big log home and they needed someone to come out and repair the swimming pool and get it running for the summer.
That was the first time I'd been back out there since the plans for buying it fell through last winter. A lot of things went through my mind. Namely that I had made all of the right decisions between then and now... and that I felt very good about the direction that things were moving.
I also felt a renewed sense of confidence and motivation :) That house inspires me like nothing else I've encountered. I dont know how to explain it, except that I feel very at home out there and some keen connection with this place. Almost 6 months after the first time I saw it (in the dead of winter), it has changed so much - - huge blooming rose bushes, full hostas, green trees... and now the pool very clean and inviting instead of looking like a "money pit"...
I feel as if the house represents a specific thing to work towards. Put in my path to inspire me. I am certainly not wishing the young couple out before their time... but I also know that people move, things change, jobs transfer - and if I am meant to make that house my home then it will happen when I am ready for it, and it is ready for me.
At the same time, I am keeping my mind open to the fact that there are other houses. Maybe even better houses. But I am constantly drawn back to this one when I think of a home... and at the very least, will always remember it as the thing that inspired me to dream bigger than ever before.