Remember Me?
Sorry so quiet :} I've been busy behind the scenes working on various site projects, and also on my upcoming book (
the passive income guide
). It's been a week for "tying up loose ends" and getting things in good order with all of my business ventures.
I think I have around a dozen sites now, in various stages of development, and have just been working on them across the board - making a bit of progress on each one every day. Too, there are the JV's and other projects in the works, so I just keep a running list of things to "manage" or check up on here in front of my monitor.
Google seems to really like the new site template for
SSWT
. Remember how I stressed over getting that done at the end of '04? Well worth it! I'm currently sitting at
#4
on Google for "learn internet marketing" (a perfect search term that defines my site, and gets just over 200 searches a day).
The increase in targeted traffic and newsletter subscribers is also bringing a lot of attention to my upcoming book - most of the people that subscribe to the SSWT Newsletter are now also subscribing to the notification list at passiveincomeguide.com . I've really enjoyed this project so far, and the results of the pre-launch are very encouraging!
Sales are coming in almost daily now on the affiliate site I launched in November. We added a new merchant last week, and Albert has been updating the site a bit each day.
Here's a pic of the two of us, by the way: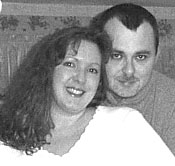 My daughter took this one over the weekend - we'd just been out to the movies to see
Cursed
. Not recommended - it was really lame... but it was nice to get out and have a good time, anyway ;)